Implicaciones patogénicas de la reacción de fase aguda en sordera súbita idiopática
Palavras-chave:
Sordera súbita, Reacción de fase aguda, Isquemia cerebral transitoria
Resumo
Introducción: La sordera súbita en la mayoría de los casos sigue siendo una entidad de causa desconocida, aunque se han propuesto causas infecciosas, vasculares e inmunes.
Objetivos: Estudiar la relación entre la reacción inflamatoria de fase aguda en sangre periférica como expresión de la isquemia transitoria cerebral y la sordera súbita idiopática.
Métodos: Realización de exploración otorrinolaringológica y neurológica, audiometría, timpanometría, hemograma y resonancia magnética craneal.
Resultados: La reacción de fase aguda se manifiesta como el incremento del índice de neutrófilos / linfocitos que aparece a las 48-72 horas después de la aparición de la sordera súbita.
Conclusiones: El estudio muestra una reacción inflamatoria de fase aguda en la sordera súbita, por supuesta isquemia audiovestibular. Por otro lado, el incremento del índice de neutrófilos / linfocitos descarta el origen viral de la sordera súbita. Esta determinación objetiva ayuda al entendimiento de los mecanismos patogénicos de la sordera súbita.
Downloads
Não há dados estatísticos.
Referências
Schreiber BE, Agrup C, Haskard DO, Luxon LM. Sudden sensorineural hearing loss. Lancet. 2010 Apr 3;375(9721):1203-11.
Plaza G, Durio E, Herráiz C, Rivera T et al. Consenso sobre el diagnóstico y tratamiento de la sordera subita. Acta Otorrinolaringol Esp. 2011 Mar-Apr;62(2):144-57.
López-González MA, Cambil E, Abrante A, López-Fernández R, et al. Terapia sonora en sordera súbita. Acta Otorrinolaringol Esp. 2012 May-Jun;63(3):165-72.
Lee H, Ahn BH, Baloh RW. Sudden deafness with vertigo as a sole manifestation of anterior inferior cerebellar artery infarction. J Neurol Sci. 2004 Jul 15;222(1-2):105-7.
Murakami T, Nakayasu H, Doi M, Fukada Y, et al. Anterior and posterior inferior cerebellar artery infarction with sudden deafness and vertigo. J Clin Neurosci. 2006 Dec;13(10):1051-4.
Son EJ, Bang JH, Kang JG. Anterior inferior cerebellar artery infarction presenting with sudden hearing loss and vertigo.
Laryngoscope. 2007 Mar;117(3):556-8.
Gerace C, Pianura C. Sudden deafness without vertigo as a sole manifestation of AICA infarct. Neurol Sci. 2008 Oct;29(5):371-2.
Tamhankar M, Solomon D. Acute Hearing Loss. Curr Treat Options Neurol. 2004 Jan;6(1):55-65.
Tomita M, Fukuuchi Y. Leukocytes, macrophages and secondary brain damage following cerebral ischemia. Acta Neurochir Suppl. 1996;66:32-9.
Ross AM, Hurn P, Perrin N, Wood L, et al. Evidence of the peripheral inflammatory response in patients with transient ischemic attack. J Stroke Cerebrovasc Dis. 2007 Sep-Oct;16(5):203-7.
Emsley HC, Smith CJ, Tyrrell PJ, Hopkins SJ. Inflammation in acute I schemic stroke and its relevance to stroke critical care. Neurocrit Care. 2008;9(1):125-38.
Moxon-Emre I, Schlichter LC. Evolution of inflammation and white matter injury in a model of transient focal ischemia. J Neuropathol Exp Neurol. 2010 Jan;69(1):1-15.
Masuda M, Kanzaki S, Minami S, Kikuchi J, et al. Correlations of inflammatory biomarkers with the onset and prognosis of
idiopathic sudden sensorineural hearing loss. Otol Neurotol. 2012 Sep;33(7):1142-50.
De Kleyn A. Sudden complete or partial loss of function of the octavus system in apparently normal persons. Acta Otolaryngol. 1944;32:407-29.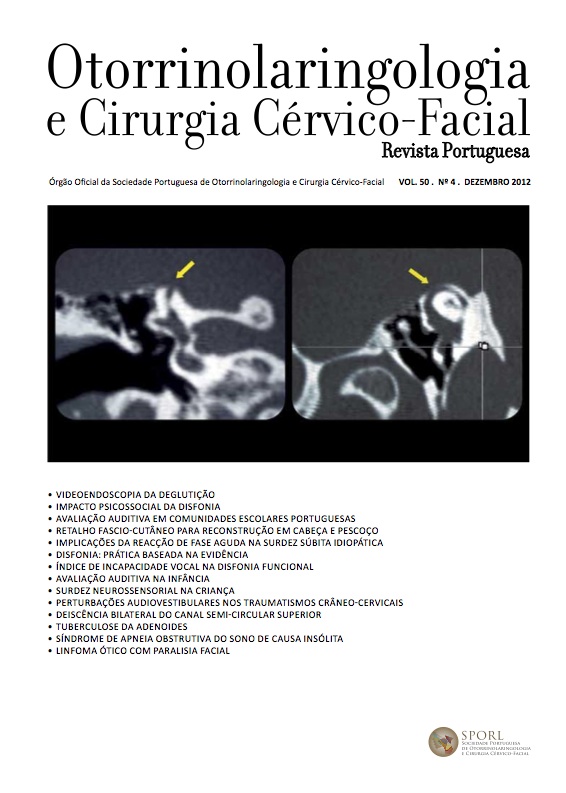 Como Citar
López-González, M. A., Abrante-Jiménez, A., Gómez-Torres, A., Domínguez-Durán, E., & Esteban Ortega, F. (1). Implicaciones patogénicas de la reacción de fase aguda en sordera súbita idiopática. Revista Portuguesa De Otorrinolaringologia E Cirurgia De Cabeça E Pescoço, 50(4), 307-310. https://doi.org/10.34631/sporl.72